Each year since 2010, Gerber has been looking for a new, cute healthy baby to represent the face of Gerber. Can your child win the next Gerber baby contest?
You're about to learn:
The Gerber baby contest is the biggest free baby photo contest in the nation, with hundreds of thousands of entries every year. It also gets huge media coverage — meaning, if your baby wins then your child will be famous for a while.
We know you want to win and want the details on the Gerber baby contest.
Let's get started.
When Does The 2023 Gerber Baby Contest Start?
Gerber has officially announced the commencement of the highly anticipated 2023 Gerber Baby Contest.
The Entry Period for this renowned competition is scheduled to commence at 9:00 AM EDT on Wednesday, May 31, 2023, and will conclude at 11:59 PM EDT on Saturday, June 10, 2023, referred to as the "Entry Period."
In an intriguing development, this year's contest brings an exciting twist for parents eager to participate.
As part of their submission, parents are required to provide not only their baby's photos but also their own childhood pictures. This addition to the contest adds a personal touch, allowing participants to reminisce about their own childhood experiences alongside their little ones.
What are the Prizes?
When it comes to prizes, Gerber is very generous.
The Gerber baby contest grand prize winner will take home a nice cool cash prize of $25,000.
Grand Prize:

$25,000 cash prize
One-year supply of Gerber baby food products
Opportunity for the winner's child to appear in a future Gerber advertisement

Additional Prizes (First Prize):

Five (5) winners will each receive:

$10,000 cash prize
Six-month supply of Gerber baby food products
You can learn more about that by checking out the past Gerber winners.
How to Enter the Contest?
To enter the 2023 Gerber baby contest, head over to https://photosearch.gerber.com/ and submit a photo or photo collage of your eligible child, a throwback photo or collage of yourself as a child, and a family story.
For Additional Prizes, share a photo or video of your eligible child on TikTok or Instagram with the hashtag #GerberBabyThrowback.
Make sure your entry meets all the requirements, such as being taken during the entry period (May 31, 2023, 9:00 AM EDT to June 10, 2023, 11:59 PM EDT), featuring appropriately clothed children, and not using filters or edits. Remember to review the official rules for complete details before entering the contest.
The contest is completely FREE and no purchase is required.
Once submitted, you'll be in the Gerber baby contest for a chance to win $25,000.
Rules
A quick look at the Gerber baby contest rules. (Full 2023 Gerber Contest Rules)
Grand prize winner will be awarded a $25,000 cash prize in a form of a check. Winner will also have opportunity to be featured in Gerber ads, commercials and more.
Entry Limit: One entry per child. If you have more than one eligible child then you must enter a separate entry the each.
To participate and be illegible in this contest you must be at least 18 years of age, legal guardian of the child in the photos, and a legal resident of the 50 United States,  Washington D.C., or Puerto Rico.
To be qualified for the contest your child must between the age of 1 day to 48 months old.
No entry fee, the contest is FREE. NO PURCHASE NECESSARY TO ENTER OR WIN. A PURCHASE WILL NOT INCREASE YOUR CHANCE OF WINNING.
Here are some things to be aware of that can disqualify you from the Gerber baby contest.
No nude pictures. Child must be clothed in at least a diaper.
Baby photos must be taken within the entry period.

Cannot pay professional photographer or others. You must take the photos yourself.

You cannot use any filtering, editing or retouch the photos.
ALSO READ: Learn more about the Gerber Baby Contest Rules - FULL Details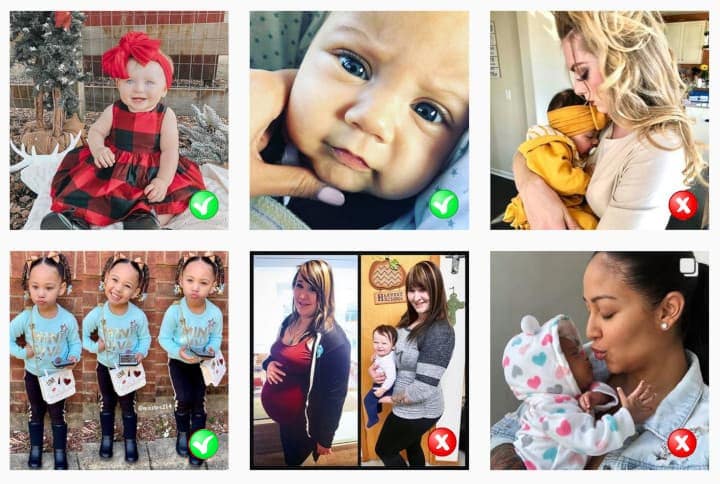 We pulled the above images from Instagram with #gerberphotosearch2018. This is an example of disqualified photos that entered the Gerber baby contest.
What's Next?
What to do while you're waiting for the Gerber baby contest winner announcement?
The Gerber baby contest is an annually contest so it only happens once a year. Don't miss the deadline to submit your baby's photos!
Two things that we recommend you do while waiting for the next launch or update of the new Gerber Baby.
Stay alert for the launch and updates.
There's a contest that we recommend.
While we recommend you to stay alert for the Gerber contest updates, we don't recommend checking every day. That will get old after the third day and you may stop checking altogether, but don't worry we've got the solution for you!
Solution:
We have been emailing thousands of subscribers each year to inform them of the next contest and updates, the service is completely free. Join the thousands today.
Signup by filling out the form below and hit that "JOIN" button.
Yes! I want to subscribe to the "Free Baby Stuff" newsletter and get notify about baby contests, especially the Gerber baby contest.
Gerber PHOTO SEARCH is an annual contest which runs only once a year, that's why we recommend another contest while you're waiting! Don't let those cute baby pictures go to waste.
Yes... go to waste.
The Gerber baby contest official rules stated for many years now, photos that are taken more than 30 days before submission are disqualified.
So if you have a cute baby picture that will be disqualified by the time Gerber launches their baby contest then we recommend entering a photo contest now.
Here is a cute baby contest that you can join now and they allow baby photos that are taken by paid professionals, while Gerber baby photo contests do not.
The Cute Kid contest is a monthly contest for kids and babies, with winners being announced each month.
There's a grand prize of $25,000* college fund for CuteKid of the year, plus modeling opportunities and the chance of being discovered by Disney, Huggies, Pampers, and Parents as past CuteKid entries have been.
This is an excellent opportunity to see how easy it is to enter an online baby photo contest. The Cute Kid contest is free for their "People Choice" category. Start from there!
Although the Gerber baby contest is the biggest and most popular baby contest around, we suggest that you take the time to learn as much as you can about other baby contests — especially if you're dying to show your baby off!