Each year since 2010, Gerber has been looking for a new cute healthy baby to represent the face of Gerber. Can your child wins the next Gerber baby contest?
You're about to learn:
The Gerber baby contest is the biggest free baby photo contest in the nation, with hundreds of thousands of entries every year. It also gets huge media coverage — meaning, if your baby wins then your child will be famous for awhile.
We know you want to win and want the details on the Gerber baby contest.
Let's get started.
When Does the Gerber Baby Contest Start?
These Gerber baby contests usually start sometime in the fall. Yes, that means you will have to wait until fall of 2019 to enter the 2019 contest.
The exact dates of when you can submit baby photos to Gerber are never scheduled in advance. They change every year. One thing for sure, fall is the answer.
When Gerber announces the contest launched that's unusual the date when you can starts submitting your baby's photos.
The Gerber baby contest deadlines are usually around 2-3 weeks after the contest announced. Then there will be a judging period following that. The winners will be announce sometime in January or February of next year, in this case early 2020.
What are the Prizes?
When it comes to prizes, Gerber is very big and generous.
Gerber baby contest grand prize winners usually take home a handsome cash prize of $50,000. There's also extra cash for taxes as well. Gerber has thought of it all.
Beside the cash prize, there will be opportunities for featuring on Gerber media channels. That mean your baby will be famous for awhile.
There are usually some runners-up prizes as well. You can learn more about that by checking out the past Gerber winners.
How to Enter?
Here's how to you can enter the Gerber baby contest. The following is assuming that the process of entering the contest will be the same as last year.
You must have an Instagram account. Use your existing account or if you don't have one then create an Instagram account.
Make sure that your account is NOT set to private. If it is then set it back to public.
Upload your baby photos and with hashtag #GerberPhotoSearch2019 (as last year was #GerberPhotoSearch2018).
That's pretty much done!
There are no fee or purchase required. It's 100% FREE.
You're now in the Gerber baby contest for a chance to win $50,000.
Rules
A quick look at the Gerber baby contest rules. Here are some rules and requirements that you should know about the coming 2019 Gerber baby contest.
Again this is with the assumption that the 2019 contest is the same as 2018.
Grand prize winner will be awards a $50,000 cash prize in a form of a check. Winner will also have opportunity to be feature in Gerber ads and commercials and more.
How to enter? Upload your baby photos on Instagram with the hashtag #GerberPhotoSearch2019. But 2019 could be different so be sure to check with official rules when contest announced.
You can upload up to 10 different photos per child.
To participate and be illegible in this contest you must be at least 18 years of age, legal guardian of the child in the photos, and a legal resident of the 50 United States,  Washington D.C., or Puerto Rico.
To be qualified for contest your child must be the age of 1 day to 48 months old.
There are no signup or purchase required to enter. Entry for the contest is absolutely free.
Some things to be aware of or you can be disqualified from the Gerber baby contest.
Don't collage your pictures. Another word, don't use more than 1 pictures to make into one image.
No naked picture. Child must be clothed at least with a diaper.
Cannot utilize multiple Instagram accounts to enter.
Cannot submit photos that are taken more than 30 days prior to submission.
Cannot pay professional photographer.
ALSO READ: Learn more about the Gerber Baby Contest Rules - FULL Details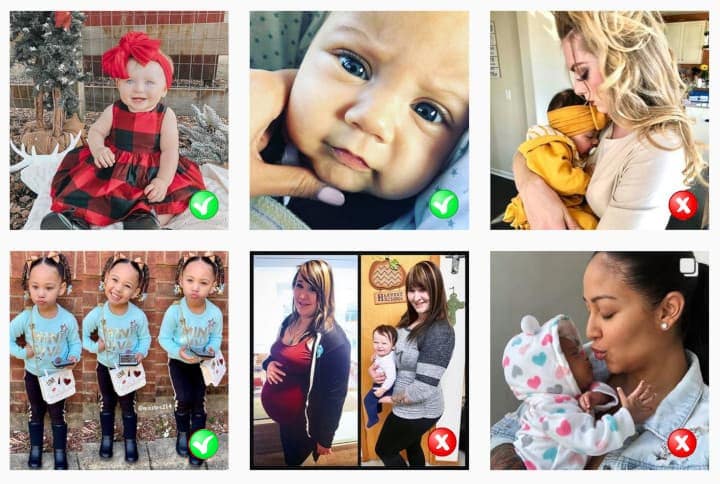 We pulled the above images from Instagram with #gerberphotosearch2018. This is a good example of disqualified photos that entered the Gerber baby contest.
What's Next?
What to do while you're waiting for the Gerber baby contest?
The Gerber baby contest is an annually contest so its only happen once a year. Don't miss the deadline to submit your baby's photos.
Two things that we recommend you do while waiting for Gerber to launch the contest.
Stay alert for the launch.
There's a contest that we recommend.
While we recommend you to stay alert of the Gerber contest launch but we don't recommend checking everyday. That's just not productive.
Here's a solution:
We have been emailing thousands of subscribers each year informing them of the next contests and updates, the service is completely free. Join the thousands today.
Signup by filling out the form below and hit that "JOIN" button.
Yes! I want to subscribe to the "Free Baby Stuff" newsletter and get notify about baby contests, especially the Gerber baby contest.
Gerber PHOTO SEARCH is an annual contest which runs only once a year. This is why we recommend another contest while you're waiting or those cute baby pictures will go to waste.
Go to waste? Yes... go to waste.
As the Gerber baby contest official rules stated for many years now, photos that are taken more than 30 days before submission are disqualified.
So if you have a cute baby picture that you want to enter the contest then it could be disqualified by the time Gerber launched the baby contest.
Here's a cute baby contest that you can join now and they allowed professional baby photos too which Gerber baby photo contest does not.
The Cute Kid contest is an all year long contest for kids and babies. Winners are announced each month.
There's a grand prize of $25,000* college fund for CuteKid of the year, plus modeling opportunities and get discovered by Disney, Huggies, Pampers, and Parents as some of the past CuteKids had been seen.
This is an excellent opportunity to join to get some experiences under your belt if you have not enter an online baby photo contest before. The Cute Kid contest is free for their "People Choice" category. You can start from there.
The Gerber baby contest is the biggest and most popular baby contest around. Many parents are dying to have their baby wins. You should take the time to learn as much as you can about this baby contest.