UPDATE: Getting ready for Gerber baby contest 2019
Gerber baby contest has been the biggest talk topic of any baby photo contest each and every year for the past 8 years, with news media outlets including TV news channels everywhere announcing the new Gerber's spokesbaby.
And there's also tons of synchronized press releases announcing the launch of the contest and winners.
Here's an example of last year contest — the 2016 Gerber baby contest.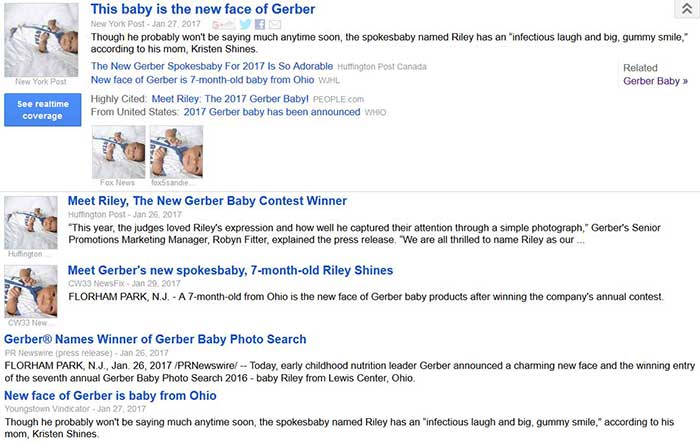 Is your baby a cutie? Do you think your child is the cutest? Have you thought that your baby's photo could be the next contest winner and land him or her to be the next Gerber baby?
Here's How the Gerber Baby Contest Usually Works.
Each year the contest starts when Gerber announces it sometime during the fall season. There will be a period for submitting your baby photo. Then right after that, there will a voting period. And finally, all of us patiently and anxiously waiting for sometime in January of the following year, then Gerber will announce the Gerber baby contest winners and one grand prize winner will be crowned the new Gerber's spokesbaby.
Gerber Baby Contest 2017-2018
UPDATE: Gerber baby contest 2017 was launched with many contest rules changed.
The Gerber photo search 2017 has not been announced yet, so we can only provide you the following information hereon about the Gerber baby contests based on what the past years rules are — assuming it will be the same or very similar.
If you'd like for us to keep you informed then you can subscribe below. We will email you as soon as more information about the Gerber photo search develops, leaks or announces.
Yes! I want to subscribe to the "Free Baby Stuff" newsletter and get notify about baby contests, especially the Gerber baby contest.
Understanding the Gerber Baby Contest
Many people are confused. For example, Gerber baby contest 2015, Gerber's Spokesbaby 2016 and Gerber baby 2016; all of those terms are referring to the same contest and the same grand prize winner despite the years 2015 and 2016.
If you're one of those people that fall in this confusion like us before, we finally got it all cleared out and we hope to have cleared this up for you too.
When we're talking about the Gerber baby contest we are actually talking about the actual contest itself which for example, in 2015 — it was called "Gerber Baby Photo Search". That's not always the case because in 2014 it was called "Be Our Baby Photo Search".
Back to the earlier example, Gerber baby contest 2015 and Gerber's Spokesbaby 2016 and Gerber baby 2016?
The reason you see the different years is because each contest run that year will be crowned the winner the next year.
So, the Gerber baby contest 2015 which is the "Gerber Baby Photo Search 2015" starts in the fall of 2015. And the winners are announced in January of 2016.
The grand prize winner will be crowned Gerber's spokesbaby for that year. In this case it's Gerber's Spokesbaby 2016. And people usually refer the winner as the Gerber baby. That's how you got Gerber baby 2016.
To further explain for this year: The Gerber baby contest 2017 will be announced sometime in the Fall of 2017 and the winner of the "Gerber baby contest 2017" will be announced in January 2018. The new winner will be crowned as "Gerber's Spokesbaby 2018".
The Gerber Baby Contest Rules
In last few years, the contest rules have been pretty much the same but for a few things.
The dates are never set in stone. It fluctuates as when the contest will start and end, this also applies to the announcement of contest winners as well.

We also noticed the name of the contest changed a few times too. It changes all the time so it's a good idea to get on our newsletter.
As we mentioned before — the contest rules maybe the same or similar. Below is some information we expect based on the past years.
When is the Gerber Baby Contest 2017 start?

We know you are eager to enter now but contest usually announces and launches sometime in the fall.

How do I enter the Gerber baby contest?

You can enter when the company Gerber announces the contest, there will be instructions on how to upload your baby's photo.

How much is the cost of entering this Gerber baby contest?

It doesn't cost you anything. Gerber baby contest is free to enter and there is no purchase required. It's the biggest free baby photo contest around.

Who can participate in the Gerber baby contest?

You can participate if you a legal U.S. resident, District of Columbia, and Puerto Rico.You also have to be at least 18 years old (legal age) and are a legal guardian or parent of the child in the photo. And the child must meet the age requirement of: 1 day to 48 months old when you submit photo.

What are the photo requirements?

You must follow these requirements or you will be disqualified. You may not submit photos taken by a paid photographer.You cannot use photo collages like having 2 or more pictures and combine it into one image.Also do not upload the photo anywhere else because you must have sole copyright ownership of the picture.The photo you submit must be taken within 30 days prior to submission.

What are the prizes?

We're excited to share this part with you because Gerber baby contest always awards are big assuming it will be the same as last year.The grand prize is to have your child crowned as the Gerber Spokesbaby for 2018 with opportunity to feature in ads and magazines.You will also be rewarded a cash prize of $50,000 with an extra $15,540 to help pay for your taxes. Plus, clothing for Gerber Children's wear with a value of $1,500.If you don't win the Grand prize then there are 6 Milestone Categories you can win: BIRTH, SUPPORTED SITTER, SITTER, CRAWLER, TODDLER, PRESCHOOLER.If you win any of these then you will be awarded with $3,500 cash plus you will get $750 for Gerber Children's wear as well. That's a total of $4,250 for each milestone winner.

I heard that I can vote for Gerber baby contest winners. Is that true?

Yes and No. No, you cannot for the Grand prize winner. That is up to the judges. But yes, you can vote for the milestone winners and you can also ask as many people you know to vote.

What can my baby and I do while we are waiting for the Gerber Photo Search contest?

Well, we suggest you get some practice by entering other baby photo contests while you wait. for the Gerber Photo Search. Here's a contest that you can participate in now. Check with our website often to see other contests as well.