(Feb. 7, 2018) — The 2018 Gerber Baby was finally announced. This year was just a few days later than we anticipated. But nevertheless, we've now learned of the new Gerber baby winner.
And his name is — drumroll please — the winner of the 2017 Gerber Baby Contest is Lucas Warren from Dalton, Georgia.
Before we get to know our new Gerber baby, lets have one last look at our last year 2017 Gerber baby Riley.
Here's Riley making headlines: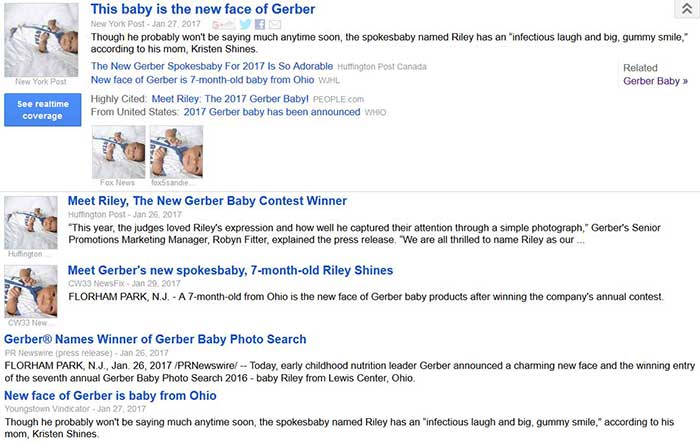 Say goodbye to Riley as he pass the crown to the new Gerber baby winner...
Lucas' parents are super happy and emotional when talking about our 2017 Gerber baby contest winner. At 18 months old Lucas earned for his parents a cool $50,000 cash — could be use for his future, of course.
You're be seeing more of baby Lucas soon because he will be feature in Gerber marketing campaign.
Learn more about the Gerber contest and how you can enter your baby.
Made History — The First Down Syndrome Gerber Baby
Lucas made another Gerber history because he is the first Down syndrome baby to wins the Gerber Photo Search contest. Don't let the special needs part fooled you.
According to mom (Cortney Warren) in an interview with Today says she's never met someone who didn't meet her son, Lucas, and smile.
Bill Partyka, CEO and president of Gerber, says Lucas's smile and happy expression captured the hearts of the Gerber team.

"Every year, we choose the baby who best exemplifies Gerber's longstanding heritage of recognizing that every baby is a Gerber baby," said Partyka. "This year, Lucas is the perfect fit."

"We're hoping this will impact everyone — that it will shed a little bit of light on the special needs community and help more individuals with special needs be accepted and not limited," dad Jason Warren said. "They have the potential to change the world, just like everybody else."
Just like all the other Gerber babies, Lucas is making headlines all over the news media outlets and breaking the internet.
A Little Details on the Gerber Baby Contest
Lucas won the title for Gerber Baby 2018 but it was a long journey to get there. The contest actually started in 2017. Yes, the Gerber baby contest 2017 started back in mid September. The submission period ended toward the end of October. Then follow by a judging period.
Babies ages 0-48 months are all welcome to enter the contest — given that you're a US legal resident.
There are two photo themes "Giggles and Wiggles" and "Best Dressed Baby" and you can submit a total of up to 10 entries.
There was more than 140,000 entrants wanted to be the 2018 Gerber Spokebaby but Lucas won the judges with that adorable smile.
A Little Too PR?
We might be opening a can of worms here. But after following the Gerber baby contest for years, well, since it first launched back in 2010 — we felt this was a little too PR maybe?
No doubt Lucas is a cutie but do you think it's a little too much PR on Gerber part? It seems like that's what it's all about PR for Gerber, not so much about the actual contest.
Sure, there was:
The first Asian Gerber Baby
The first Hispanic Gerber Baby
The first Twin Gerber babies
Also Black Baby
But this one topped it all, the first Down syndrome baby to won the Gerber baby contest.
Here's a list of all the Gerber babies, if you're interested in seeing all the interesting babies that had won those past Gerber baby contests.