Each year Gerber announces the winners of the Gerber baby photo search contest and it always make headlines. Just as the last year 2015 Gerber baby contest grand prize winner, Isla a little 7 months old Asian-American baby headlining all the news.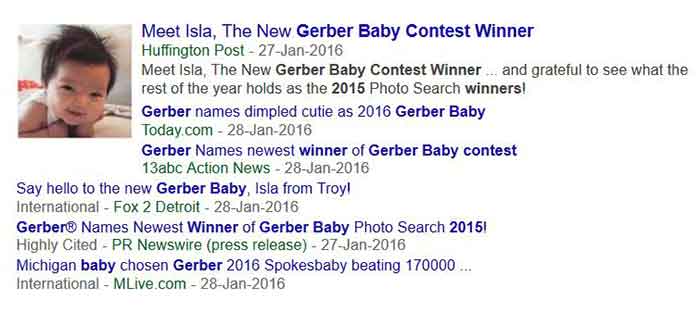 Now it's time for Isla to pass the title "Gerber Spokesbaby" to the next Gerber baby.
On 01/26/2017 Gerber announced the new face of Gerber. Meet Riley from Lewis Center, Ohio — the 2016 Gerber baby contest winner. At only 7 month old with his "infectious laugh and big, gummy smile" according his mother, Kristen Shines, he just made his parent $50,000 richer. Kristen said that it will help start a college fund for Riley.
Devin Shines didn't think that they can win and even laugh at his wife because there were so many baby photos entered but little Shines shined. Look at this photograph of Riley that shined and captured the judges attention to win the Gerber Spokesbaby 2017 title.
Riley Shines not quite ready to speak yet but now crowned as the Gerber Spokesbaby 2017. Congratulations Riley!
Here's Riley making headlines and capturing the hearts of Americans.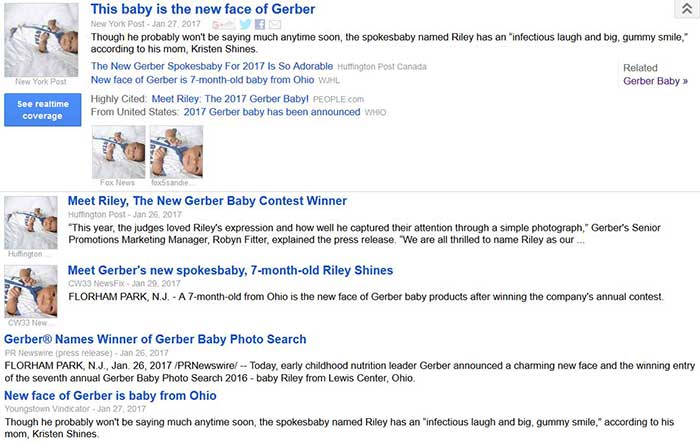 Learn more about the next Gerber baby contest.
2016 Gerber Baby Contest Details
Photos were submitting from 09/07/2016 to 10/28/2016. There were over 110,000 baby photos that were entered in the contest but, there can be only one grand prize winner that were selected by a panel of judges. Six milestone category winners were voted by ordinary folks during the voting period between 10/31/2016 to 11/25/2016. Then on 01/26/2017 Gerber announced the Gerber photo search contest winners.
Grand Prize
$50,000 cash in a form a check (plus $15,540 for taxes)
$1,500 clothing from Gerber Childrenswear
Feature on Gerber ads
Gerber Grand Prize Winner – Riley Shines from Lewis Center, OH
Milestone Category Prizes
$3,500 cash in a form of check
$750 clothing from Gerber Childrenswear
Gerber Milestone Category Winners
Birth+: Leo from Rockville, MD
Supported Sitter: Chase from Southport, CT
Sitter: Willow from Wichita, KS
Crawler: Bryce from Mount Holly, NJ
Toddler: Camden from New York, NY
Preschooler: Alanys from Humacao, Puerto Rico
Congratulation to all of the six milestone category winners!
Learn more about Gerber baby contest winners.
Videos of Riley the 2017 Gerber Baby