The 2015 Gerber Baby Contest started with a big bang on September 8, 2015 where parents and guardians rushed to submit their baby photos before the submission deadline of October 23, 2015. Then from October 28 through November 24, 2015 people voted for the Gerber Baby Contest Milestone Categories. All winners were then announced on January 27, 2016 where only one grand prize winner was picked by a panel of judges.
Take one last look at Gerber baby contest 2014 before we move on. Here's Gerber baby 2015 – Baby Grace.
Now meet the 2016 Gerber Baby that was making headlines in early 2016.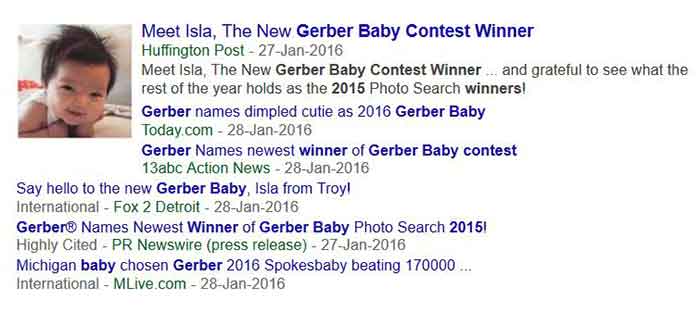 2015 Gerber Baby Contest Winner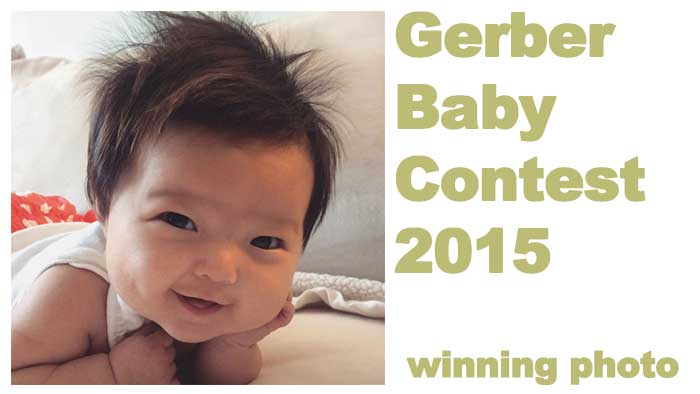 Gerber Baby 2016 – Baby Isla
Rachael, Isla's mother shared with PEOPLE that Isla is the happiest little baby, always smiling. And that exact smile on the photograph was literally on her face in real life the whole time.
Out of more than 170,300 entries that were competing for the title, Gerber Spokesbaby 2016, in the Gerber Baby Contest 2015, a little 7 months old baby from Troy, Michigan was picked by the panel of judges to be the winner. Baby Isla is the first Asian-American baby to have won the Gerber Baby Contest and represent Gerber for 2016 until she passes the title on to the Gerber Baby Contest 2016 winner.
Baby Isla at 7 months old didn't have much to say but cute giggles. On January 27, 2016, Gerber announced her as the new Gerber Spokes Baby 2016. Isla's parents, Grayson and Rachael, received a cool $50,000 in the form of a check. Isla's mom compared it to hitting the jackpot. $50,000 is not quite the Powerball Jackpot but it's good enough. Isla also got $1,500 in clothes from Gerber childrenswear and got to appear in Gerber ads and commercials.
Interested in Gerber Baby Modeling? Maybe your child can win the next Gerber Baby Contest.
Isla most likely will be modeling for Gerber for at least a year, but will that turn into a career for her future? In a CNNMoney interview her parents said, "We don't have any immediate plans to get her into modeling, but who knows..."
In Gerber's official press release, senior marketing manager, Bernadette Tortorella, revealed why Isla was selected to be the winner. "While we received so many incredible entries, the judges all fell in love with Isla's cheeky smile and awesome hair. We are so thrilled to be celebrating our sixth annual Photo Search Winner!"
Congratulation Gerber Baby 2016 — Isla!
Gerber baby contest 2015 didn't end with just a grand prize winner. There was six runner-ups who won the different Milestone categories which were chosen by normal people. The Milestone Category Winners each received $3,500 cash and $750 in clothing from Gerber childrenswear.
2014 Gerber Baby Contest Milestone category winners received $5,000 each.
Gerber Baby Contest 2015 Milestone Category Winners
Birth+: London
Supported Sitter: Drew
Sitter: Victor
Crawler: Hazel
Toddler: Tristyn
Preschooler: Nyla
Congratulation Gerber Contest Winners!
Learn more about these Gerber baby contest winners.
Videos of Gerber Baby 2016
Pictures of Gerber Baby Contest 2015 Winner