The results are in and Gerber got a new baby for the 2015 Gerber Baby title. There was over 180,000 entries but only one baby can be the "Gerber Baby"
First:
The 2013 Gerber Baby Contest Winners
Before we move on, let's have a quick look at last year Gerber babies.
Gerber Baby Contest 2013Name:
Levi & Paxton Strickland
From:
Wernersville, Pannsylvania
Age:
10 months
Parent:
Amanda & Matt Strickland
"Double the Joy, Double the Fun!"
The first twin to won the Gerber baby contest and became the
2014 Gerber Babies
.
And now...
The New 2015 Gerber Baby
This year Gerber 2015 Spokesbaby the winner of 2014 "Be Our Baby" Gerber baby photo contest is a 7-month-old baby name Grace from East Petersburg, Pennsylvania.
Gerber baby Grace making headlines. It's all part of being a Gerber baby.
Here's what Grace and her parents will be getting: $50,000 cash, one full year of Gerber baby foods and finally an opportunity in the future to appear as the 2015 Spokesbaby in Gerber advertisement.
Gabrielle, Grace's mother revealed in a statement that this winning shot was of one of the 5 photos she took of Grace that day.
She also said, "She must have taken her hands out of her mouth and posed them like that for a split second because I didn't even realize how cute she was posing until after I was completely done taking pictures and looking back at what I had just taken!"
Well, Grace does look like she literally posing for this. She's so adorable!
So adorable that the marketing specialist at Gerber, Cassie Savage has this to say about Grace winning photo.
"While many of the entry photos this year met our criteria, Grace's captivating charm stole the judges' hearts."
Here's Gerber baby Grace on the Today show:
2014 Gerber Baby Contest Milestone Winners
Along with Gerber baby Grace there are 6 runner-ups, the 6 milestone winners each will be rewarded with $5,000 cash plus another $1,500 for taxes but can be use for anything.
Here's are the winners as in their milestone categories:
Birth+: BENJAMIN
Supported Sitter: LILAH
Sitter: JP
Crawler: TORREY
Toddler: ANUSHRI
Toddler 2+: CHELCE MAE
About the 2014 Gerber Baby Contest
Here are some rules and details:
Starts: The 2014 Gerber "Be Our Baby" Photo Search begins October 6, 2014 at 12:01 AM ET.
Deadline: The 2014 Gerber Photo Search submission period ends November 12, 2014 at 11:59 PM Eastern Time.
Is it possible to vote for the winners?
Yes, voting are for milestone categories only. Grand prize will be select by a panel of judges.
When voting begins?
2014 Gerber baby contest voting period starting at 12:01 AM ET on November 17, 2014 and ending at 11:59 PM ET on December 14, 2014.
How to enter and submit a photo?
To enter, visit www.gerber.com/photosearch and follow the instructions provided and submit your child(ren)'s photo.
Can residents outside of U.S. eligible to enter the Gerber contest?
All legal residents of the fifty (50) United States and the District of Columbia that is at least 18 years of age and legal guardian of the child(ren) in the photo.
Photo formats:
No, only files in .jpg, .png, or .bmp format can be submit to this baby photo contest.
File size:
Your photo file size can be no more than 5 MB.
Photo taken:
Photo must be no older than 30 days of the time submitted. Child(ren) in photo must be appropriately dressed. Only one child per photo unless twins.
Prizes:
The 2014 Gerber baby contest will awards a total of 7 winners. One Grand Prize winner and 6 Milestone Category winners.
Those are the basic 2014 Gerber baby contest rules. You can read the Gerber official rules to learn more.
Photos of the 2015 Gerber Baby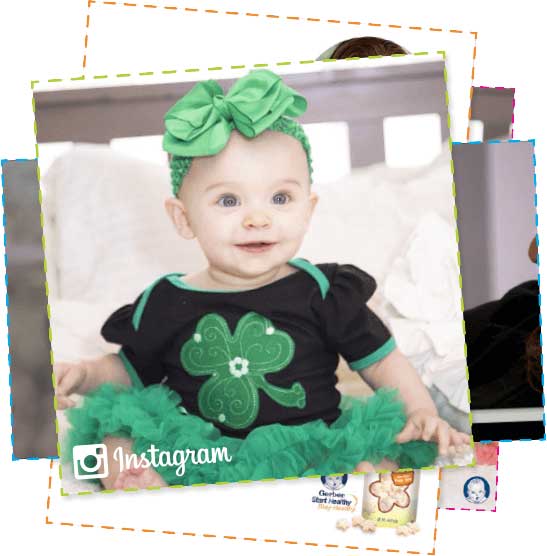 Recommended Reading: What is the Gerber Photo Search and How You Can Enter?